Battle Creeks Bed Warmer is made to help those with circulation problems, achy feet and legs, or restless leg syndrome.
The 458, previously the 358 or 058, now comes with a new High/Med/Low switch.
Great for Poor Circulation
Gives cozy warmth right where you need it.
Max temp: The pads can run between 100-130 F
One year Manufacturer Warranty
Model 458 (Replace Model 358) Key Features and Benefits
Size - 18 X 36 inch size is perfect for one side of a bed or across the bottom of a bed to keep feet warm!
Three temperature settings ensure comfort on even the coldest nights.
The switch will automatically turn off the Bed Warmer after eight hours
Extra-long 10.5-foot cord enables the Bed Warmer to be at the foot of the bed, the switch near the hands and the plug to reach the wall outlet.
Off-season storage bag included

Diabetes, Peripheral Artery Disease, arthritis, Chronic Fatigue Syndrome, Fibromyalgia, Reynaud's Disease, Multiple Sclerosis, and many other problems can benefit from the soothing warmth of a Battle Creek Bedwarmer. Placed under the bottom sheet, the gentle heat rises to give you cozy warmth right where you need it, for just pennies a day. Sleep more soundly to wake rested and rejuvenated in the morning.
Doctors and physical therapists know that the intense, penetrating moist heat of Thermophore brand products is a convenient, effective way to give patients hours of soothing relief. Having a Thermophore of your own, to use at the first sign of pain, muscle spasm or stiffness, can often let you treat a minor problem before it has a chance to worsen and require professional attention.
⚠ This product can expose you to lead, which is known to the State of California to cause cancer and birth defects or other reproductive harm. For more information go to www.P65Warnings.ca.gov

Why Thermophore?
To make the Thermophore Heating Pads more efficient, we have positioned weights to cause the Thermophore® packs to conform to body contours. This reduces air spaces between the Thermophore® hot pack and body, so more heat is transmitted to the body tissues. Ordinary stiff plastic heating pads leave air pockets, which result in an uneven transfer of heat.


Why not just buy an ordinary heating pad, instead of a Thermophore?
An ordinary heating pad is not hot enough to provide the same level of comfort and pain relief as the Thermophore®. Thermophore® Heat Packs are hot fomentation products and are viewed as a medical device by medical professionals.

An ordinary heating pad will keep you warm and help you begin to relax, but it will not penetrate deeply into tissue and will not be as effective as a Thermophore® Pack. If you suffer from pain that interferes with your life or keeps you from getting a good night's rest, you will be grateful that you invested in the comfort, pain relief and relaxation of a genuine Battle Creek® Thermophore® product
Why Moist Heat?
Moist heat tends to penetrate better because the water molds to the body and provides better heat transfer to the body. Moist heat has been shown to penetrate 27 times better than dry heat.
What are people saying about Thermophore Heating Pads?
★ ★ ★ ★ ★
"The Thermophore was a gift for my wife and she loves it. We had a small one that is at least 20 years old and not working as well as it once did which is understandable. I surprised her with the large one and it is awesome. Service from heart rate monitors was great. Their price was better than most other places and it arrived on time and as described. I paid a small amount for two day shipping and got it in time for Christmas. Based on my experience I would recommend them as a great place to do business"
- Gerald D
★ ★ ★ ★ ★
"On a trip up North Michigan several years ago I injured my back and while staying at my cousins she brought out his heating pad. Once it was turned on and I snuggled back in the chair I was in heaven. I have spent most of my life on a heating pad and this was nothing like I had ever felt. It was the most wonderful heating pad in the world. I now have 2 plus I have purchased them for other friends and family, and they love it too.
Sorry to go on and on but seriously this is a great product and I am so glad it is made right here in Michigan"
-Karen
The story behind Battlecreek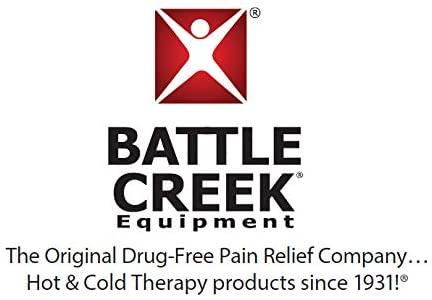 Thermophore.com is owned by Battle Creek Equipment Company. Battle Creek Equipment Company was founded in the late 1920's and incorporated in 1931. It was founded to continue the work of the Sanitarium Equipment Company that was part of the world-renowned Battle Creek Sanitarium, the pre-eminent spa (known as the "Sans") of the late 1800s' and early 20th century.


Battle Creek Equipment Company was founded to sell health equipment and exercise equipment…a radical concept in the 1930's. But the concept of selling great products that provided real health benefits proved a strong concept and the company flourished.

The company is now based in Fremont, IN. where we manufacture the majority of our products today. We believe in American manufacturing and have now for 85 years. The company is now run by the grandson of the founder and remains family-owned. Many of our employees have worked there for over 20 years with some approaching 40 years.

If you are in need of assistance placing an order, or simply have product questions, please feel free to call us. Our friendly sales/customer service personnel will be more than happy to help you.



Frequently Asked Questions
Is it necessary to add moisture to the Thermophore® Pack?

No, you don't have to add any water to our covers. The special Moist-Sure™ fleece cover absorbs moisture from the atmosphere to generate a light layer of moisture on your skin. You don't need to be dripping wet for effective moist heat therapy - just a light layer of water vapor is all you need, and most homes have plenty of humidity in the air to provide the necessary moisture.

It helps to add more moisture to the cover if you store the Thermophore® cover in a humidified room or in the laundry or bathroom - any location where there is plenty of moisture in the air when it is not in use.

Often, just washing the cover will allow the fabric to re-absorb plenty of moisture. There are no chemicals to wear out, and no special treatment of the fabric is required - it can be washed and dried as needed. For arid climates, areas where the air gets very dry for part of the year, or homes where heavy use of heating or air conditioning systems dries the indoor air, we now have a Moisture-Plus™ cover as well. Included with our Thermophore Classic™ Plus and MaxHEAT™ Plus styles, this cover has a vinyl-lined pocket to let you safely add a damp cloth and increase the available moisture. When atmospheric moisture just doesn't seem like quite enough, you'll love the Moisture-Plus™ cover


Where does the moisture come from?

Each Thermophore® unit has a specially-woven Moist-Sure™ fleece cover. Between uses, this cover traps moisture from the atmosphere in the air spaces between the textile strands. Although the fabric does not feel wet, the application of quick, intense heat will generate this moisture into water vapor to increase the benefit of heat therapy.

When activated, the Thermophore® heating unit becomes intensely hot very quickly. Through what is known as "hygroscopic action", the moisture moves away from the source of heat to the cooler body tissue. When properly applied, a light layer of moisture is produced between the Thermophore® unit and the body, to allow a deeper, more effective transfer of heat into painful areas.

Thermophore Classic™ Plus and MaxHEAT™ Plus systems include a Moisture-Plus™ cover that utilizes atmospheric moisture, but also allows you to safely add a damp cloth for additional moisture.

If you live in a dry climate or frequent use of the heating/cooling systems in your home dries out the indoor air, adding the Moisture-Plus™ cover will insure the ultimate in moist-heat therapy!


How can I be sure my Thermophore® is producing moisture?

After placing the hot pack unit inside the cover, plug the unit in and lay it out flat on a glass or Formica table or counter top. Either hold the switch down (if you are using the Thermophore Classic™) or push the "on" button (if you are using the MaxHEAT™ style).

Let the unit warm for about 5 minutes to activate the moisture in the fleece cover. When you pick up the pad at the end of 5 minutes, you should see tiny moisture drops on the glass or Formica surface. If you run your hand over the surface, you can feel the moisture and see streaks of water. If you live in an area with a dry climate, or frequent use of the furnace or air conditioner makes the indoor air too dry, you may need to use our Moisture-Plus™ cover. It will utilize atmospheric moisture but also has a separate vinyl pocket that allows you to add a damp cloth for added moisture.


Can I use the Thermophore® over my clothing?

We recommend using the Thermophore® directly on the skin, if possible so that the moist heat can penetrate most effectively and deeply into the tissue. Using it over pajamas or a shirt will also work if that is more convenient for you.

Metal buttons, clips or buckles on clothing under the Thermophore® may become quite hot, and should not be allowed to contact your skin directly until they have had a chance to cool.

We recommend that you do not lay on top of a Thermophore® because it will reduce the effectiveness of your moist heat therapy and may damage the components inside your Thermophore®.


Why doesn't the Thermophore® Pack have a switch with lower heat settings?

The Thermophore® pack treatment is so soothing and relaxing that users often doze off as their pain and tension ease. If the user does fall asleep while using the original Thermophore® Automatic Moist Heat Pack™, their hand will relax, automatically turning the unit off. No other product has a safety switch quite like the Thermophore® Automatic Moist Heat Pack™.

Our Thermophore® Arthritis Pad™ offers the quality and intense heat users have come to expect, plus the added convenience of a pre-set control to leave your hands free. Users turn the heat on and off with simple push-buttons to control the level of heat to their personal preference. If they happen to doze off or become distracted during treatment, the unit automatically shuts off at the end of the current 20-minute cycle.


Why is the Thermophore® Pack so much heavier than ordinary heating pads?

To relieve aches and pains, it is necessary for the heat to effectively transfer deeply into body tissues. To make the Thermophore® pack more efficient, we have positioned weights to cause the Thermophore® pack to conform to body contours. This reduces air spaces between the Thermophore® hot pack and body, so more heat is transmitted to the body tissues. Ordinary stiff plastic heating pads leave air pockets, which result in an uneven transfer of heat.


Why do the instructions say "Do not sit or lie on your Thermophore®?

The warning not to sit or lie on top of your heating pad is required by UL Standards, the guidelines used by the industry for testing and approval. It must be included on any product that is currently tested and approved for sale in the US by UL, ETL, or any other Certified Testing Lab.

The Thermophore® is constructed with heater wires in a fabric's foundation. Folding or lying on top of the unit traps and intensifies the heat at "pressure points." The Thermophore® is also able to trap more moisture from the atmosphere when it is not insulated between your body and the cushioning of your furniture or bed. In addition, our units reach a much higher temperature than ordinary heating pads and it would be possible to damage your skin (or your furniture) by trapping and intensifying this heat.

Compressing the Thermophore® when it has become folded or bunched under your body can also damage the special metal strips inside, and they serve several functions. They hold the heater wires in place throughout the entire area of the Thermophore®, help distribute the heat and retain the heat level when the switch is shut off, increase the production of moisture, and make the heating unit mold against the contours of your body to make good contact for even transfer of heat. Lying or sitting on a Thermophore® will often mangle these strips, reducing their effectiveness.