The compact size of our Ice It!® C*Pack makes it easy to store in the freezer or take along for quick first-aid. Works well for localized treatment of small areas, insect bites or stings, to pack in sport or diaper bags, camping or hiking - any time space is an issue.
Features:
Stays flexible when fully frozen, to mold around painful area
Quickly reaches freezing temperature
Maintains low temperature longer for optimum therapeutic benefit
Non-toxic fill enclosed in latex-free vinyl
Durable enough to be used several times a day
Ergonomic designs for specific areas, such as the neck, shoulder, back or wrist
Size : 4.5" x 6"
The story behind Battlecreek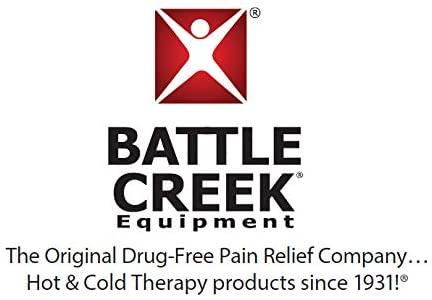 Thermophore.com is owned by Battle Creek Equipment Company. Battle Creek Equipment Company was founded in the late 1920's and incorporated in 1931. It was founded to continue the work of the Sanitarium Equipment Company that was part of the world-renowned Battle Creek Sanitarium, the pre-eminent spa (known as the "Sans") of the late 1800s' and early 20th century.


Battle Creek Equipment Company was founded to sell health equipment and exercise equipment…a radical concept in the 1930's. But the concept of selling great products that provided real health benefits proved a strong concept and the company flourished.

The company is now based in Fremont, IN. where we manufacture the majority of our products today. We believe in American manufacturing and have now for 85 years. The company is now run by the grandson of the founder and remains family-owned. Many of our employees have worked there for over 20 years with some approaching 40 years.

If you are in need of assistance placing an order, or simply have product questions, please feel free to call us. Our friendly sales/customer service personnel will be more than happy to help you.

Since we assemble many of our products in the USA, we know them inside and out. Our trained customer service representatives will be able to assist and answer your questions in a timely manner.